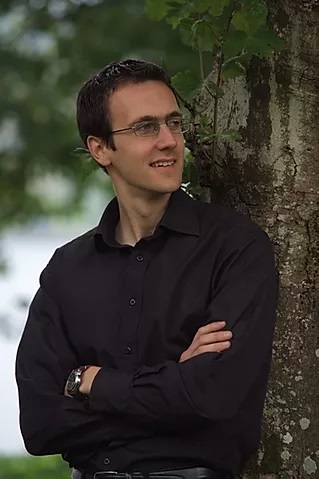 Born and brought up in Edinburgh, Robin Versteeg moved to the Highlands in 2016 and enjoys a varied working life as pianist, conductor, teacher, examiner, and church musician.
A conductor of notable breadth, Robin has directed choirs and orchestras throughout Scotland, working with musicians of all ages, and with amateurs and professionals. Before moving north, he was the musical director of several choral societies and choirs in the Central Belt, garnering a reputation for innovative programmes which incorporated everything from Bach and Mozart to The Beach Boys and Maxwell Davies. In addition to his work with HCO, he has been with the remarkable community orchestra The Ness Sinfonia since 2017, and is musical director of Cairngorms Orchestra. Passionate about music education, Robin taught piano at a number of independent schools and for Dundee City Council, and is a grade and diploma examiner for Trinity College London. He is also active as a writer, and has authored programme notes for the Royal Scottish National Orchestra, Royal Academy of Music, the National Youth Orchestras of Scotland, and the Freiburg Baroque Orchestra.
Robin read music at the University of Edinburgh, studying conducting in the Czech Republic on successive summer schools with the aid of university travel scholarships, and winning the Niecks essay prize. He then pursued postgraduate studies in Piano Accompaniment at the Royal Academy of Music, also graduating with the LRAM in instrumental teaching. His principal teachers there were Michael Dussek, Malcolm Martineau, and Graeme Humphrey, and he played in masterclasses with Rudolf Jansen, Julius Drake, Clifford Benson, Sir Robert Tear, Philip Langridge, James Bowman, and Jane Manning, among others. As a collaborative pianist Robin has worked widely in auditions, workshops, and festivals for such organizations as NYCOS, NYOS, Scottish Opera Education, and Scottish Ballet, and as a founding member of the chamber trio Vocali3e, he was featured in Creative Scotland's curated showcase "Made in Scotland" commissioning, premiering, and recording Jennifer Margaret Barker's Burns song cycle, A Lassie's Love. An experienced repetiteur and choral accompanist, Robin has played for the Edinburgh Festival Chorus, Royal Scottish National Orchestra Chorus, and Cappella Nova Outreach, and was repetiteur for Cromarty Youth Opera from its inception. He remains in demand as an accompanist, recently partnering in recital such artists as cellist Katy Bell, soprano Eileen Mackintosh, and tenor Christopher Josey, and playing in festivals in Inverness, Lochaber, and Badenoch and Strathspey.