Concert on 2nd September, Ullapool McPhail Centre, 7.30 pm
Concert on 3rd September, Dingwall Town Hall, 3 pm.
Conductor Susie Dingle
   with 
Rob Farmer solo horn
perform
Programme:
Vaughan Williams Wasps overture

Strauss, R. Horn Concerto no. 1, with Rob Farmer (horn)

Interval

Tocher, Nicholson and McGuire Fragments Completed

Dvorak Legends 1 – 5
About Robert Farmer: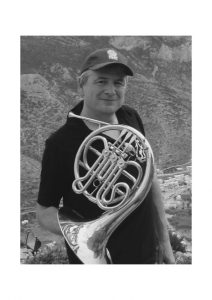 Robert Farmer was born many years ago and educated in Tasmania, Australia, completing his Bachelor of Music in Performance and Conducting at the Tasmanian Conservatorium in 1989.
After graduation he divided his time between teaching and freelance playing. Ensembles included the Australian Youth Orchestra, the Australian Wind Orchestra, the Australian Chamber Opera Orchestra, the Sydney Symphony Orchestra, the West Australian Symphony Orchestra, the Tasmanian Symphony Orchestra and Tasmania Brass. Rob conducted the Glenorchy City Concert Brass Junior and Senior Bands as well as the Derwent Symphony Orchestra which presented the Tasmanian premiere of Bruckner's Fourth Symphony.
Since migrating to Scotland in 2001, he has taught brass and wind instruments with the Argyll and Bute council on Islay and in Campbeltown and, for the last 13 years, worked as a brass specialist for the Highland Council. Rob founded and led the Highland Youth Big Band for 11 years and has conducted the Inverness Schools Wind Band for the last 7 years.
With his French Horn Rob considers himself very lucky to have studied with and absorbed skills from diverse players such as Wendy Ritchie (Symphonisches-Orchester Berlin), Lizzie Davis (Manchester Camerata), Jouni Suuronen (Tampere Filharmonia) and Fergus McWilliam (Berlin Philharmonic).
A very active musician in the Scottish classical music scene Rob has played with numerous orchestras including the Mahler Players, Aberdeen Sinfonietta, Inverness Choral, Inverness Opera, Starlight Opera, Cromarty Youth Opera, Culbin Singers and the Highland Chamber Orchestra. He continues to freelance in most genres of music and has occasionally been seen armed with a different piece of metal. He has even played for Queen Elizabeth II and her consort in a Royal Command Performance of 'Les Miserables' at Gordonstoun School.
Rob lives on the windy shores of Loch Ness with his Violinnist/Clarinettist/Australian wife Rachel and their two demanding cats, Keiko and Chloe.
Tickets £10 (£8 concession/£1 children) at the door